When you think of Time Attack, the Suzuki Swift is not the first car that will come to mind. Most will think about a Skyline, Supra or Silvia. As with most tuning related stuff, the turbo'ed cars get all the love. As us Swifters hardly get any spotlight from the aftermarket media outlets, it was a very pleasant surprise to see an article on Speedhunters fully focusing on a zc31s. A Time Attack Suzuki Swift Sport from 2008 that is.
So the article "Time Attack on a budget" shows a zc31s with some interesting modifications. The most notable mod of this swift is the turbo kit and although no specifics are mentioned, it seems this Swift Sport makes around 250bhp, which should make it a blast to drive.
The engine bay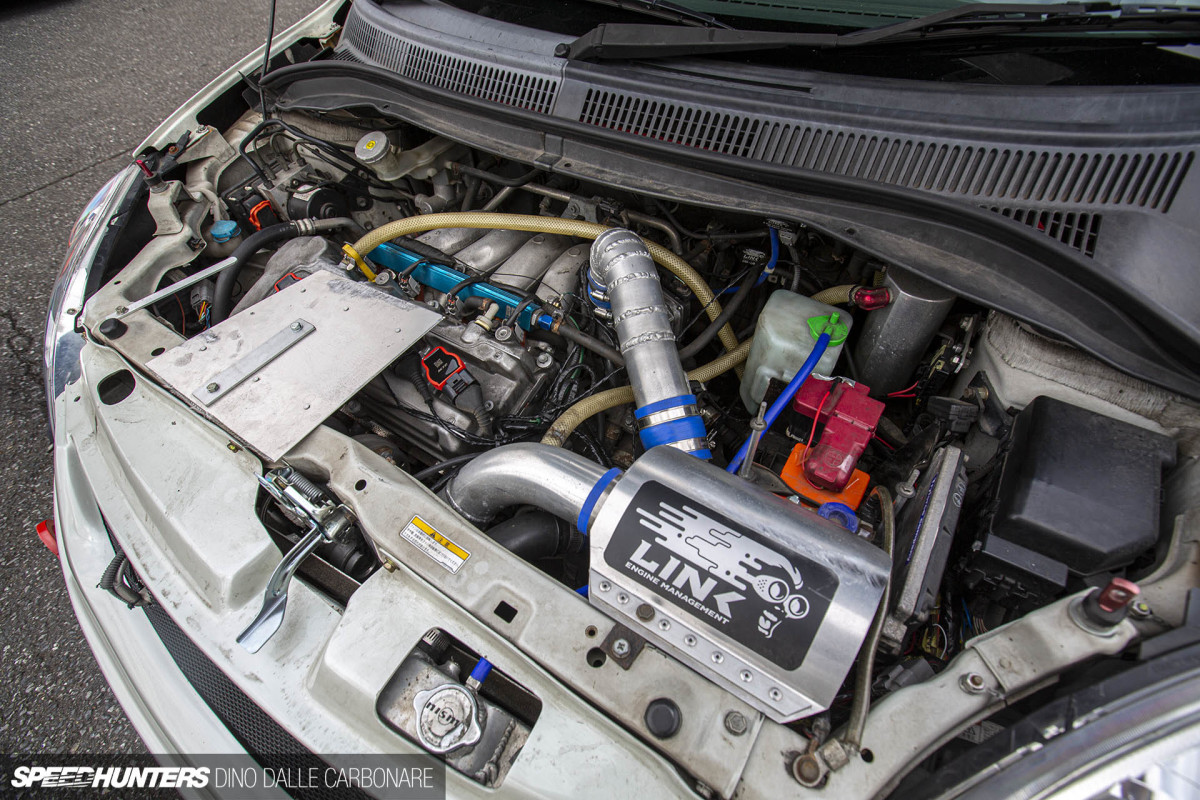 Under the hood we can see things have been rearranged a little. The forced induction is not pictured in detail, but we do see the factory 2 coilpacks have been replaced by 4 coil packs for a better spark. We can also assume by the sticker on the intake shield that a (probably fully programmable) Link ECU is present. In the back of a much smaller (probably lightweight) battery, we see a Greddy oil catch tank and a in front of the intake manifold there is a blue R's Racing fuel rail visible.
Exterior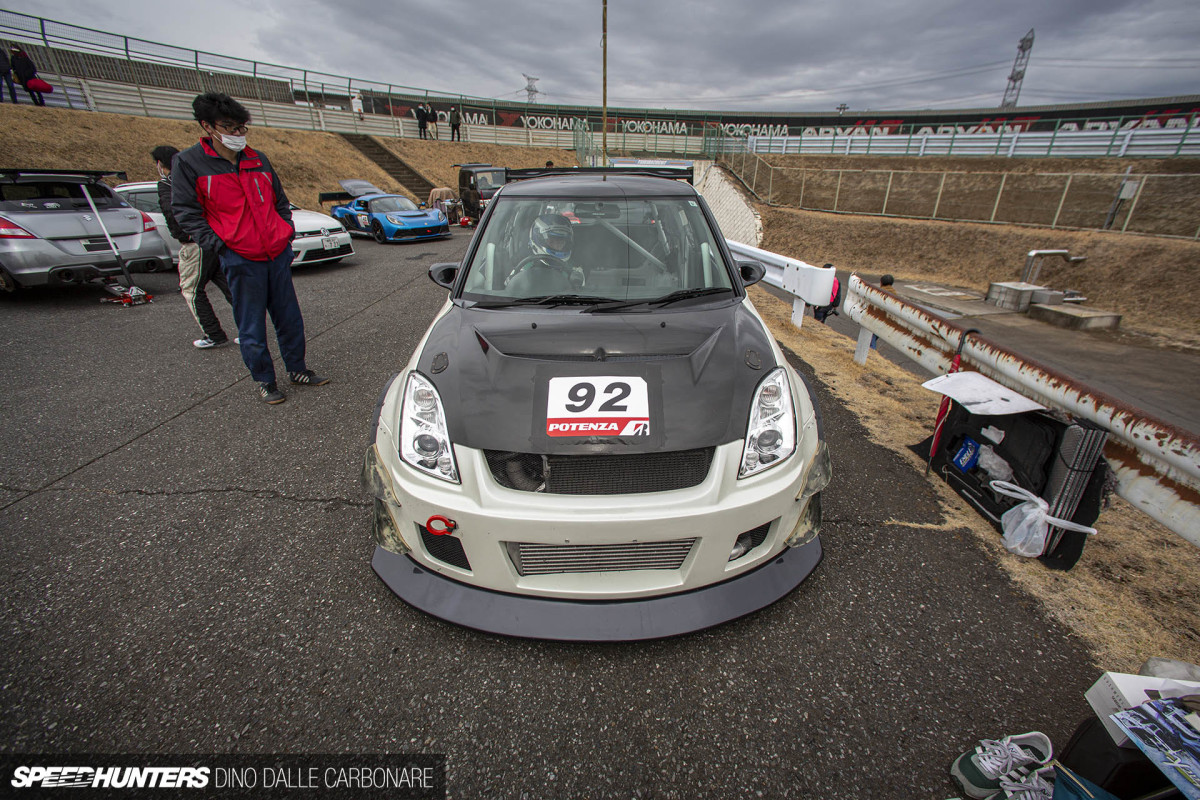 This Suzuki Swift Sport seems to have quitte some hand made/custom parts; I think this goes for the front bumper with lip, the canards, the front fenders, the rear diffusor and the huge wing, which is probably a universal piece with a self-made bracket and side pieces. The rear fenders are probably universal, while the carbon bonnet & side skirts are from SunLine Racing. Side mirrors are replaced with more aerodynamic ones from Ganador.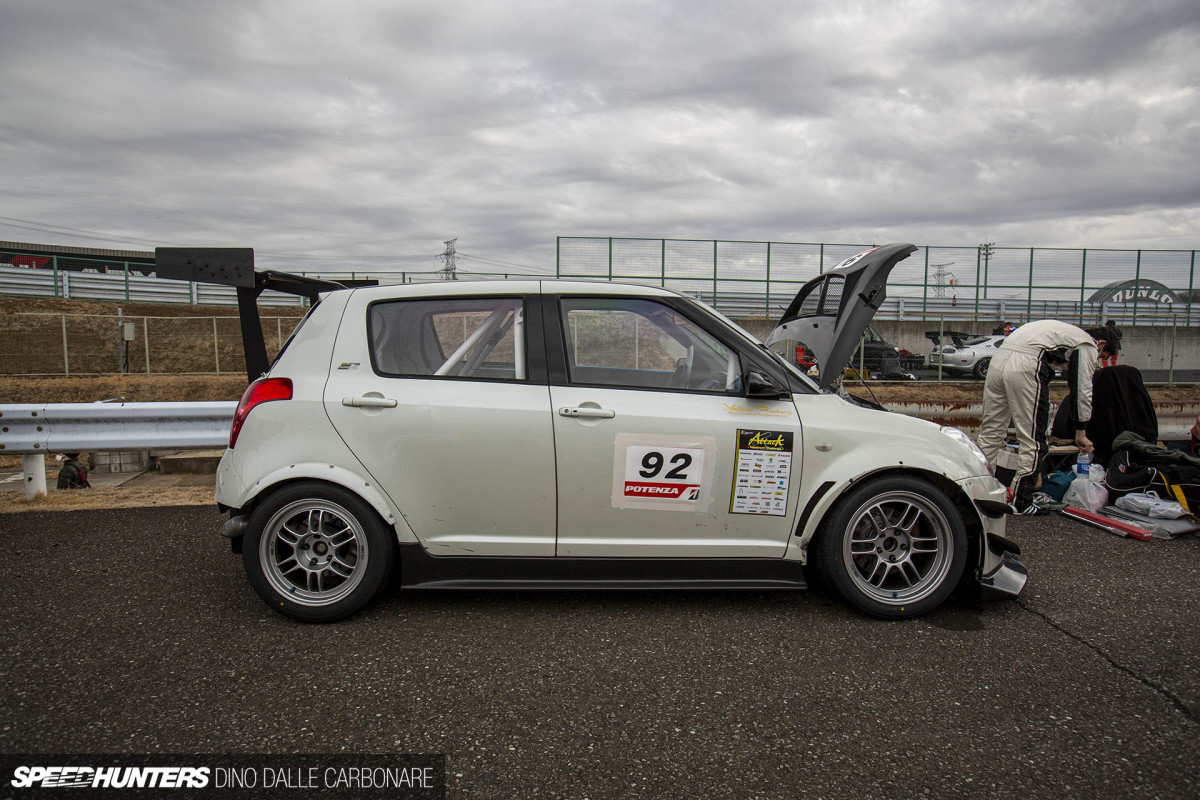 As the rear window does not have the hole for the rear wiper and no heater lines, I suspect it to be a lexan window to reduce weight. It looks very clean either way.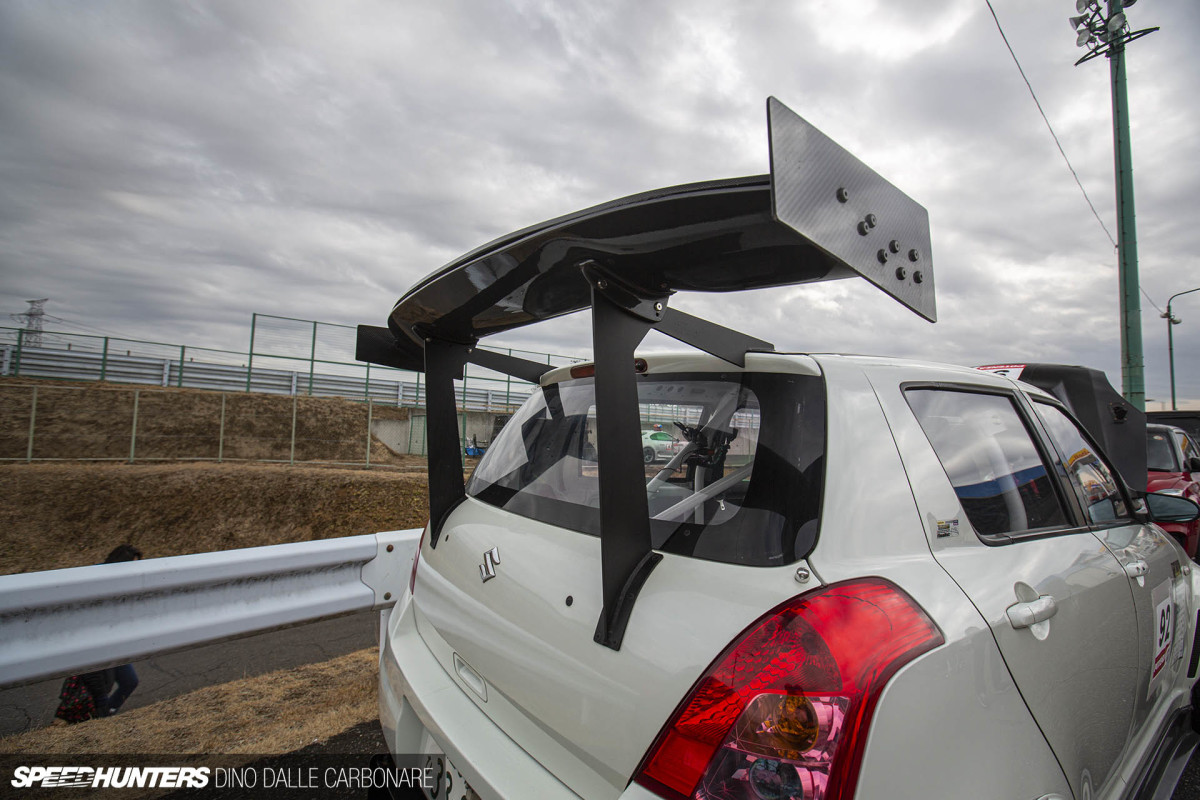 The wheels are 17″ Enkei  RFP1's wrapped in 245/40/17 Yokohama A052 semi slick tyres. The stopping power is increased by mounting grooved pieces and Wildwood 4pot callipers. It is hard to judge if the front brake disc size is stock or upgraded, although the latter seems more likely considering the doubling on horsepower.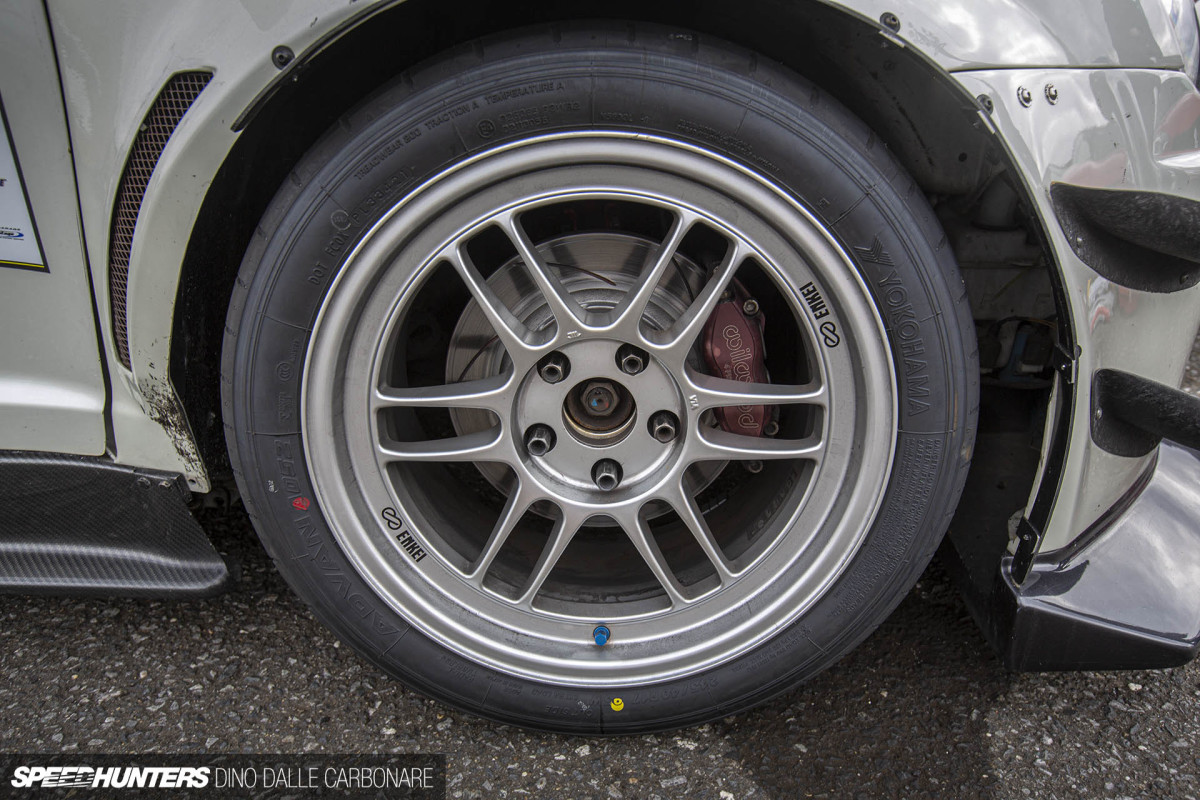 The Interior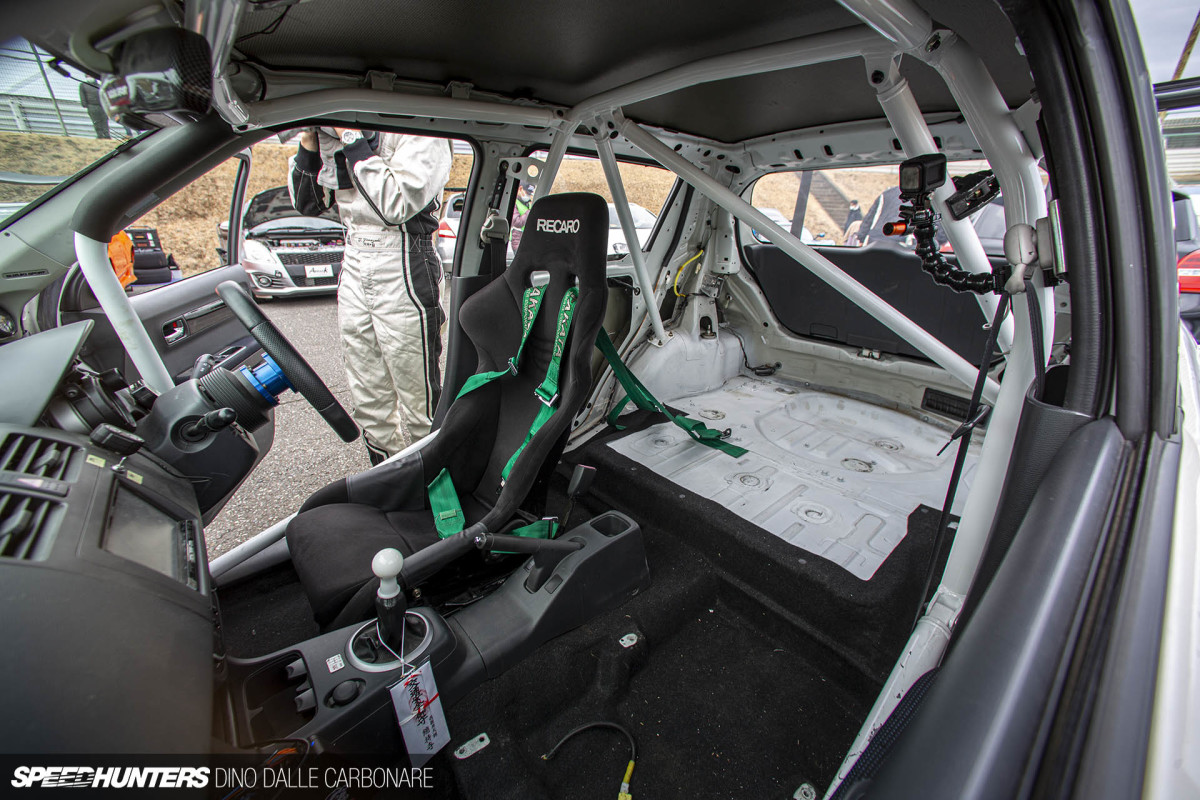 The interior is mostly stripped, with a bolt-in six-point cage that goes around the dashboard. There is only 1 seat left which is a Recaro bucket with Takata harness. Interesting to note is that the shoulder straps are not mounted the way they should. As the downward angle is greater than 5 degrees. I hope a harness bar is on the todo-list for this Swift. The steering wheel was swapped for a flat face racing wheel. It seems the OEM speedo cluster was replaced by something custom that pokes out. But we have no clue, if you do please leave a comment to enlighten us! Shifting happens with a Suzuki Sport / Monster Sport Shift knob. The interior mirror has a Suzuki Sport carbon cover, which used to be for sale on this blog.
This car has done a 1:03.224 lap around the Tsukuba track with is impressive. It is not as fast as the legendary D-Language zc31s that did it in 58.692 (which is out of this world), but then again that Swift had another 100bhp at the wheels and would be disqualified as a "low budget" Time Attack car. Many thanks to Dino Dalle Carbonare for giving some shine to the Suzuki Swift on such a big automotive platform.